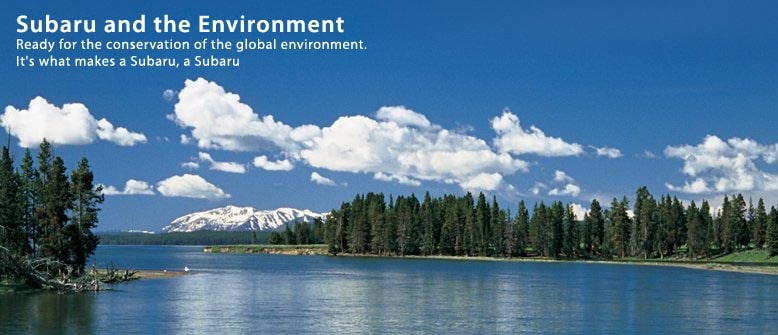 Ready to safeguard our natural environment
At Subaru, protecting the environment is just as important as protecting our passengers. That's why we build fuel-efficient vehicles in ecologically-minded plants. Together, with our earth-friendly partners, we are dedicated to preserving our planet. It's an integral part of our philosophy. It's what makes a Subaru, a Subaru.

The Subaru Clean Plant

Consider this: When you carry out your trash at home on the next collection day, you'll be sending more trash to landfills than the entire Subaru manufacturing plant in Lafayette, Indiana (SIA). The Subaru plant was the first auto assembly plant to achieve zero landfill status - nothing from its manufacturing efforts goes into a landfill. It's all reused and recycled.


 In 2006, SIA was awarded the U.S. EPA's Gold Achievement Award as a top achiever in the agency's WasteWise program to reduce waste and improve recycling.
 In 2004, SIA became the first U.S. manufacturing facility to reach zero landfill status.
 In 2003, SIA became the first U.S. automotive assembly plant to be designated a wildlife habitat. Deer, coyotes, beavers, blue herons, geese, and other animals live there in peaceful coexistence with the Subaru plant. It's our commitment to leave as small a footprint as possible, delivering real-world benefits that everyone can enjoy.
 In 2002, SIA became the first auto assembly plant in the U.S. with an on-site solvent recovery system that produces dry still bottoms.
 In 1998, SIA was the first auto assembly plant in the U.S. to be ISO 14001 Certified.
 In 1994, SIA was also the first auto assembly plant in the U.S. to be smoke free.
Each year, SIA actively recycles 99.3% of excess/leftover steel, plastic, wood, paper, glass, and other materials. The remaining 0.7% is shipped to the city of Indianapolis and incinerated to help generate steam.

Subaru SmartWay™ Vehicles
Subaru offers the most fuel efficient All-Wheel Drive vehicle lineup in America.* Subaru also offers Partial Zero Emissions Vehicle (PZEV) certified Legacy, Outback, and Forester models which are available for sale anywhere in the U.S. Subaru PZEV vehicles meet California's Super-Ultra-Low-Emission Vehicle exhaust emission standard.**
Subaru PZEV vehicles have 90% cleaner emissions than the average new vehicle.
Gasoline vehicles meeting PZEV emissions standards sometimes have even lower emissions than hybrid or alternative fuel vehicles.
Subaru PZEV vehicles achieve such tight pollution controls, and the burning of fuel is so complete that in very smoggy urban areas, exhaust out of the tailpipe can actually be cleaner than the air outside.
Subaru PZEV vehicles are also U.S. Environmental Protection Agency (EPA) Certified SmartWay™ Vehicles.***
According to the EPA, Outback, Forester, and Legacy are among the cleanest and most fuel-efficient vehicles available in the U.S. based on air pollution, greenhouse gas emissions, and overall fuel economy.
Outback, Forester, and Legacy are honored in the EPA's Green Vehicle Guide.
Our Partnerships
Subaru always has been, and will continue to be, committed to safeguarding the natural environment that so many of its customers avidly enjoy. Examples of the company's environmental stewardship go beyond technology and manufacturing and into the very lives of its customers.
Leave No Trace
One of our long-standing environmental efforts is the Leave No Trace Center for Outdoor Ethics. For the last 10 years, the company has sponsored the Subaru - Leave No Trace Traveling Trainers. Traveling Trainer teams, in their Subaru Outback vehicles, travel from state to state teaching thousands of outdoor enthusiasts how to minimize their impact in natural areas. The "Education in Motion" program has reached over 8 million individuals, in 48 states, with the Leave No Trace message.
Interface
Another company that recently chose to partner with Subaru is Interface, a world leader in commercial interiors and well known for its environmental stewardship and sustainability efforts. Among all vehicle manufacturers, Interface chose the Subaru Outback PZEV to be its sales fleet vehicle in the United States, making their fleet 100% SmartWay™ certified by the EPA.
Drive Magazine


The Subaru customer magazine, Drive, is printed on recycled paper and is used as a case study in the publishing industry for its environmental friendliness.
Others


Subaru also sponsors other related organizations like the Geological Society of America, the Greensgrow urban farming project, and the Pennsylvania Horticultural Society to name a few.